Thursday, March 12th, 2009
---
11:02 pm
Tuesday, November 6th, 2007
---
12:27 pm
I would like to not go to work now please. Ok? Please.
Also, Oblivion made me want a 360. I believe Assassin's Creed officially makes me NEED one.

current mood:
discontent
Monday, October 15th, 2007
---
9:36 am
- In Response To Kevin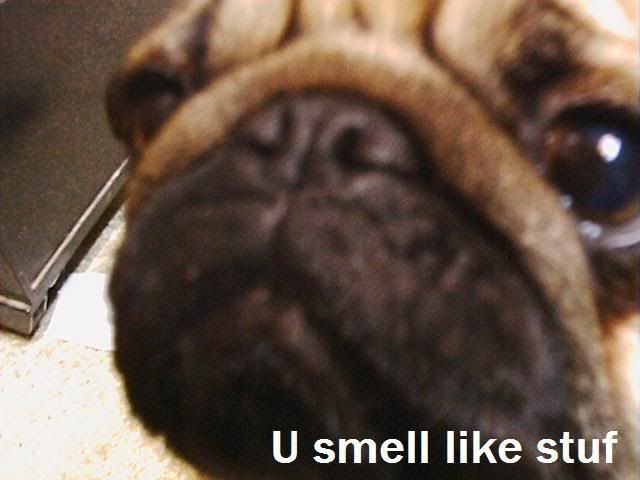 I think we should make a series.

current mood:
tired
Saturday, September 22nd, 2007
---
9:28 am
- It's true!
I'm updating!! But only because something amazing happened! Last night Hanna and I saw Rilo Kiley and the whole time I thought the guitar player looked familiar, and it dawned on me halfway through the night!! I double checked today and I was right!!!
Everyone, last night, I was about thirty feet away from RONNY PINSKY FROM SALUTE YOUR SHORTS!!!!

current mood:
excited
Wednesday, June 13th, 2007
---
8:48 am
Apparently, working seventy five hours a week is counter-productive to important life aspects, like Livejournal.
Hi everyone. I miss you.

current mood:
tired
Thursday, April 5th, 2007
---
3:18 pm
Last night sucked.
Or so I thought.
Today is proving to be significantly more difficult.

current mood:
contemplative
Tuesday, February 20th, 2007
---
9:19 am
- Okie.
So for anyone who has been curious as to how we have been living, I took some pictures of our apartment.

(

Finally.Collapse

)


Also, here is a list of people I want to have facebook profiles:

Kevin (I KNOW Rhiannon won't do it)

Hippy

Urda

Karen

Please and thank you. Now.

current mood:
bored
Wednesday, February 7th, 2007
---
12:37 pm
- I am shitting my pants.
current mood:
enthralled
Thursday, January 18th, 2007
---
10:06 am
- Idea.
Ok so I have an idea. Of course most of my ideas fizzle after a few days of intense excitement, but this one seems easy enough to actually follow through with. I want to compile a cookbook. I want to call it "Cooking With Junk Food," and, obviously, I want it to be all recipes that involve some sort of junk food. i.e., using flat soda as a base for a sauce or marinade, or perhaps using Coke syrup in homemade BBQ sauce. Maybe putting brown sugar and Southern Comfort in some butternut squash and baking it with a layer of Fluff on top. I'm into the idea of contacting companies to see if I can use their brand names as well.
Anyway what I'd love is submissions. I'm looking specifically at Nate & Jen, Haley & Justin, and Megan Stuart. For some reason I feel like those people would already have some good ideas. I really really want to hear from people, my email address is copper_kidd_@hotmail.com, or I have a new one, FunniestGuyInTheWorld@gmail.com.
I am also on Skype now, but have not bought a mic. My name on there is........(ready?).....FunniestGuyInTheWorld. God I rock.

current mood:
determined
Monday, January 15th, 2007
---
11:15 pm
- Hey!
I just wanted to provide everyone on my friends list with a link to Nate's fabulous community, "What's In Your Fridge?"

Join it and post!!! DO IT!
Tuesday, January 9th, 2007
---
4:17 pm
- Gug
I......
Hurt myself today...
To see if I still feel....

JUST KIDDING I BOUGHT EGGS AND WORE MY NEW JACKET FOR THE FIRST TIME!!
I am going to work soon. I am really really bored. That's pretty much it.

current mood:
bored
Wednesday, November 1st, 2006
---
10:00 am
- Ok x 5
Ok couple of things. Number one HI. How is everyone?
Ok done with that bullshit.
Recently the internet frat boy known as Facebook has come down off its pretentious high horse and decided that now you can join based on college, work, or REGION. Thus, I think everyone should make a profile, for two reasons. One, I have made one and uploaded a million pictures of my friends, NONE OF WHOM HAVE FACEBOOK. See, you can tag pictures with other people's names so the pictures are viewable from their profile as well as yours, and well, just do it. It's easy. Two, if you type in Rockland, Me, as a region, NOTHING COMES UP. REPRESENT, PEOPLE.
Ok that's that.
Also, I have been listening to a lot of Yes lately, and oddly enough, it reminds me a lot of Jim Henson's music from like Fraggle Rock and stuff. I wonder if he was big into Yes. It wouldn't surprise me.
Ok I have to go to work soon. I work a lot.
Ok bye.

current mood:
contemplative
Tuesday, October 24th, 2006
---
8:43 am
- Holy shit.
Getting the internet here in Boston was the longest and most arduous thing I have ever done.
But here I am. Finally.
And it's Tuesday.

current mood:
tired
Friday, July 14th, 2006
---
5:43 pm
- WOO DAY.
Happy Birthday Jesse.................AND Kevin!

And Kyle yesterday.

current mood:
hot
Saturday, June 3rd, 2006
---
2:52 pm
- "I don't think these cans really have liners."
I fucking beat Kevin at Guitar Hero last night!! I was so so drunk, but I beat him! I've known Kevin for years, and I don't think I've EVER beaten him at a video game. LIQUOR IS THE KEY!!

current mood:
tired
Monday, May 29th, 2006
---
6:25 pm
- Bucka buck
Holy shit what a boring beautiful day.
I am so bored. I actually paced around the apartment for literally twenty minutes today. I have downloaded so much music that I haven't even listened to. Gaaaaahhhhh.......

current mood:
anxious
Tuesday, May 16th, 2006
---
5:36 pm
- I'ma take a shower soon. For real.
Where's Waldo sheets make me feel cooler than cool.

current mood:
hungry
Wednesday, May 10th, 2006
---
10:33 pm
- "Ed Wynn, your nose is glowing. Have you been drinking?"
Bored bored bored.
Lost is too damn short.
I miss my girlfriend.
She will be home Sunday.
I am going to have cold pizza and hot coffee for breakfast tomorrow.
It will be delicious.
I think that's all.

current mood:
bored
Wednesday, April 26th, 2006
---
1:55 pm
- Crack of daaaaaaawwwwwnnn.........
Recently (like as of today) I've become re-obsessed with Google Earth. I've been using it to scout apartment locations!!
People should give me their addresses so I can have a million tiny placemarks littering my globe.

current mood:
bored
Monday, April 24th, 2006
---
12:26 am
- I have no feathers. None.
Yeah, I don't have much to say right now. I'd like to pretend there was supposed to be more to this post than these quiz results, but the jig is up. This upper text is just a vehicle. Sigh.





(

These results are kinda long...Collapse

)



current mood:
satisfied